Young and brilliant, Alejandro Palomino has risen to become one of the best-respected architects in Mallorca. Running his own firm in Bendinat Mallorca, Alejandro Palomino specializes in luxury residential design with a special focus on the seamless integration of his projects into the surrounding landscape. One of the key goals in his work is to have people "feel connected to nature and expand their views about beauty, function, and form. However, while many modern architects seem determined to shock and startle, his buildings are striking, but they do not clamour for attention. Design and functionality combine: open, natural, and minimalist in accordance with the spirit of the place and the spirit of the time. We sat down with AP to discuss his journey into architecture, his view and his style.
Thinking about the relationship between architecture and nature, you show that modern architecture can co-exist with its surroundings, how can you build something in a place son that it seems to belong there?'
When you want to create something new into a place, you have to absorb what you see around you, what already exists on the land, and then use that knowledge along with contemporary thinking to interpret what you see. The plot provides inspiration.
What is your experience on an emotional level when you are creating a project? Can you tell us about some of the unique challenges that you face?
Initially, I feel a great deal of excitement. Then, as it starts taking form in my head, I start to feel the challenge of coming to terms with different issues. See, architecture is not just about art, it is also about functionality, and you have to take into account factors such as orientation, sun, views, and topography. Sometimes those factors can conflict with each other and a trade off may be necessary. Whether you have to reform an existing structure where you have to maintain certain characteristics or, create something from scratch, the challenge is to deliver the best possible building in every way, get the best out of what you have, the best light, the best views.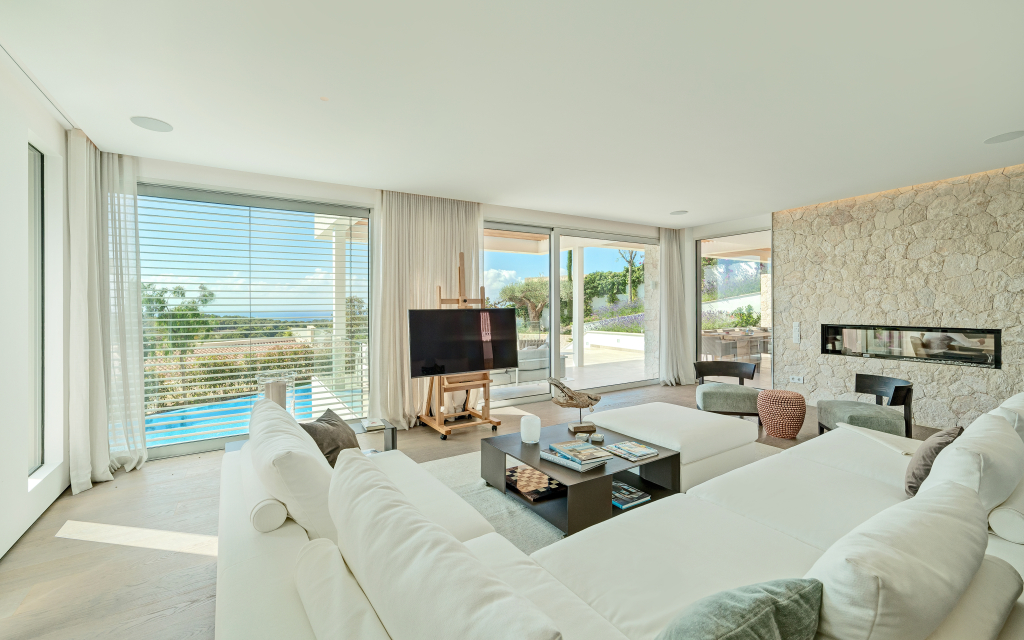 Which aspect of your work do you love the most and which do you dislike the most.
Whether i am working on a new project or reforming an existing one, the aspect I love the most is seeing my vision turn into a reality. Without a doubt, what I dislike most is the bureaucracy and all the time consuming administrative aspects involved in a project.
Your projects are a perfect combination of aesthetics and functionality, which is most important to you?
It is all about balance and harmony, everything has to join together. I believe that if something is wrong, you should not hide it, you just start it all over.
Which architect do you admire or inspires you?
No one in particular. Everything I see and experience is a source of inspiration to me.
Is there a particular element that distinguishes your projects?
Not really, I am a modern architect but it is not up to me to impose a style, it depends on how I have to deal with space and light, it depends on what is important for the functionality of the house, each project has its own personality and style. Each project is unique, form and style are dictated by the characteristics of the plot, its shape, so that the house can either blend in with its surroundings or stand out, it really depends.
How did you end up in Mallorca and how did Alejandro Palomino Architectural Studio come to be?
I always wanted to be an architect from a young age, my parents actually met as students at the faculty of architecture in Madrid. Later they moved to Mallorca. I first lived between Madrid and Mallorca and when I moved to the island I started my own firm right away. Initially I took on small projects in Magaluf, then I built the first house, people loved it and we had something to show. From that point our portfolio just kept growing.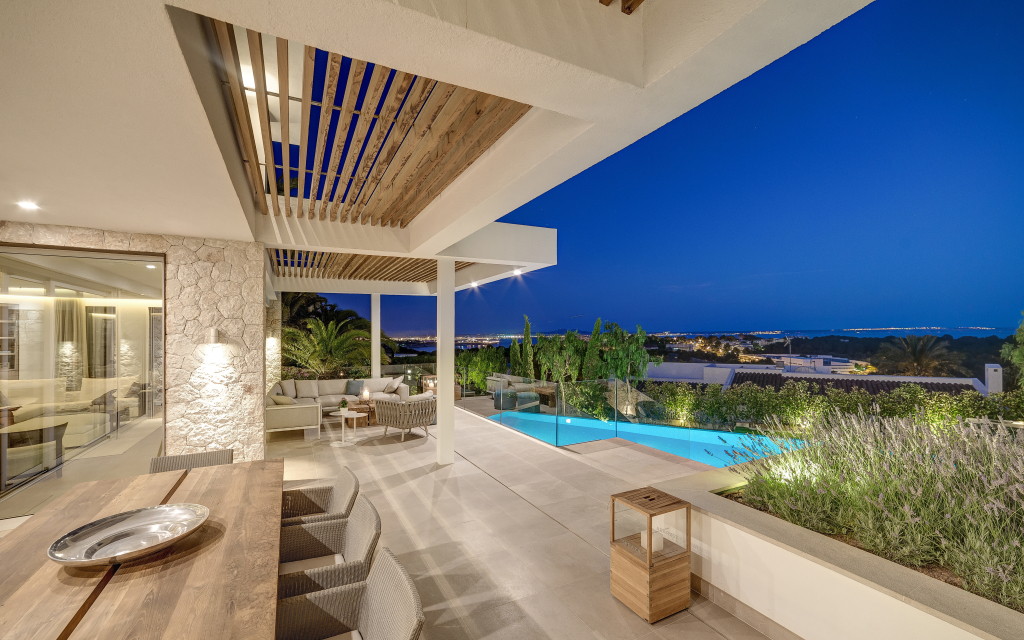 What do you think was the key to your success?
To trust in what we are doing. Every project becomes a challenge and we put all our effort in it. We really love to design.
Do you use local building materials in your projects?
Yes, we use building materials sourced from nature, such as wood and local stone to create a warm and natural living ambience in a modern design home. The result is a balance of style and structure and a seamless fusion of the house and its surroundings.
It looks like modern architecture is going back to the basic elements: fresh air, massive natural light, strong visual and, if possible, physical indoor and outdoor connections. Which do you think will be the trends shaping the future?
I think that the trend will be to unify spaces by creating open plans and as incorporating outdoor spaces into the overall home design; this is also a key concept in my projects.
And as one of most prominent American architects (Frank Lloyd Wright) , once said, "Every great architect is—necessarily—a great poet. He must be a great original interpreter of his time, his day, his age." Alejandro Palomino is without doubt great exemplar of that belief.

ALEJANDRO PALOMINO Arquitectos
Bendinat – Mallorca